Product no.: WG-PSI-1
The Poy-Sian Nasal Inhaler provides valuable services with fatigue, looseness, malaise, nausea, dizziness, unpleasant odors, headaches, mild flu symptoms, nasal congestion, itching, insect bites, or even nicotine withdrawal.

With its manifold effects and potential applications the Poy-Sian Inhaler faces greatest popularity in Thailand and is also increasingly discovered by "foreigners" and tourists to be their constant companion.

This handy, small inhaler fits in every pocket - just hold it close to (or into) your nose and inhale for a quick relief and soothing feeling. The Poy SIian Mark II Inhaler is available in different colors, so that everyone can easily recognizes his or her own Poy-Sian stick, the ingredients are the same though.
Few people know that you can also apply the oil directly by screwing off the bottom with the oil and thus drizzle some drops onto insect bites for example. Especially for insect bites this oil can work little wonders if applied soon and before scratching!
Caution: Be careful not to get any of the oil into (or close to) your eyes, open wounds, mucous membranes, ...

2 ml (gross weight: 10 g)
various colors

This nasal inhaler is and does not replace any medicine. The oil is naturally based and contains no anti-inflammatory substances. Swollen mucous membranes will not decay by the application. The effect of inhaling or applying the oil should therefore not be overestimated. However, therefore, no addiction can arise.
Ingredients:
Menthol 42,0 %
Camphor 16,4 %
Eucalyptus Oil 8,5 %
Borneol 6,1 %
Note: We would like to point out that we usually do NOT store balms, oils, creams and other health and care products as they have an expiration date, but always buy those products "fresh" for each order. Therefore, the shipment may possibly be delayed by 1-2 days.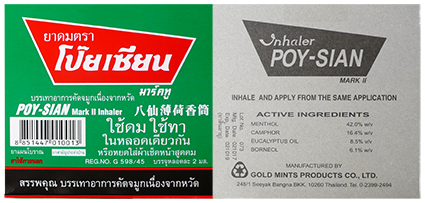 Price:
3,99 EUR
excl. SHIPPING_COSTS