Short- & Longsleeve Shirts by Big Tree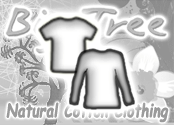 Here we offer a selection of comfortable short and long sleeved shirts made of 100% cotton. Some are hand painted, usually a simple, curved symbol, others have a buddhist or spiritual print or are plain and some are made of a woven-pattern fabric.
Big Tree - Natural Cotton Clothing!
Show 1 to 11 (of in total 11 products)
Show 1 to 11 (of in total 11 products)